Continue reading for my guide. Apple's guide here.
---
The easiest format to sign is typically PDF. If your document is Word .docx or Excel .xlsx you will need to first save it as PDF by doing File > Save As and changing the file format to PDF
Right-click your PDF file and select Open With > Preview
In Preview with your PDF open click the View in the top taskbar and select Show Markup Toolbar. The Markup Toolbar should show appear at the top of Preview
On the Markup Toolbar select the Sign button:
You're presented with two options for getting your signature onto the Mac: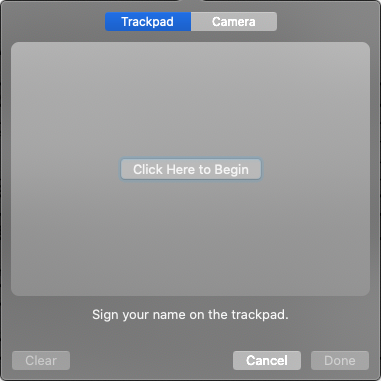 Trackpad
Sign your name using your finger on your Macbook's trackpad and click Done.
Camera
Sign your name on a white piece of paper using a black or blue pen and then hold it up to your Mac's camera. Click Done.
You should see your signature saved when you click the Sign button. Click it and it is inserted into the PDF. Move it around and resize it until you are happy.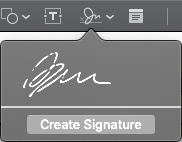 (Optional) In the Markup Toolbar at the top of Preview click the Text button:
(Optional) "Text" appears in the middle of the PDF. Click "Text" and enter what you want to add; such as: printed name and date. Similar to your signature move it around and resize it until you're happy.
When finished your document should look like the example below. When you're happy with the result click File > Save As and save your now-signed PDF!