The ability to remotely access your work desktop is available to faculty, staff, and researchers. This allows you to remotely control your computer from off-campus after first connecting to the VPN like if you were sitting at your desk. Keep in mind, although Mac allows many simultaneous connections Windows only allows one.
How to connect
Confirm with Ryan Sleeth that you have remote desktop access
Connect to the GSU VPN first
Windows
Windows only allows one user to be connected. If another user is currently using the computer it will prompt them to allow your connection. If they agree or don't reply in 30 seconds their account is safely locked and they lose access. If they decline you will be disconnected with a notice that they declined.
Windows to Windows
Click Start and search for "mstsc" select Remote Desktop Connection
Enter your computer's hostname or IP address; it's name. If you don't your computer's name see the computer name guide or ask Ryan Sleeth. The name should look like ni-sle1234-p123.dyn.gsu.edu or ni-sle1234-p123.dmd.gsuad.gsu.edu. Click Connect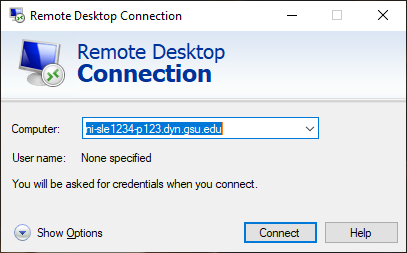 When prompted for a login enter your GSU campus ID and password with a GSUAD\ prefix. For example: GSUAD\rsleeth
Click "Yes" to any security prompts–these appear because you're connecting to a domain joined computer from a standalone personal computer
(Optional) Before clicking Connect expand Show Options and change the display if you don't want the connection to be full screen.
(Optional) Before clicking Connect expand Show Options and change Local Resources > Local devices and resources > More… to check and include Drives such as your C: and D: drives. This way, your home computer's C: drive is mounted under This PC on your work computer allowing you to easily transfer files between the two.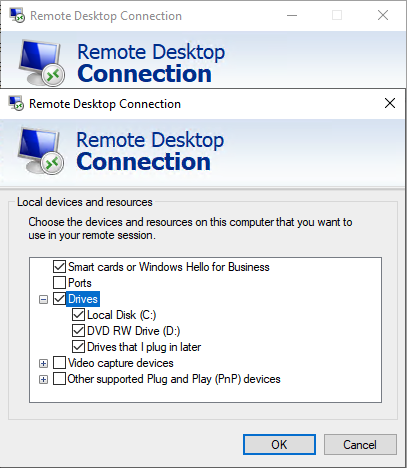 Windows to Mac
If possible avoid Windows to Mac connections. The experience is less than ideal. If needed, the application I recommend is VNC Viewer–download here.
Download and install VNC Viewer
Launch VNC Viewer and click File > New connection
For "VNC Server" enter your computer's hostname or IP address; it's name. If you don't your computer's name see the computer name guide or ask Ryan Sleeth. The name should look like ni-sle1234-p123.dyn.gsu.edu or ni-sle1234-p123.dmd.gsuad.gsu.edu. After entered click OK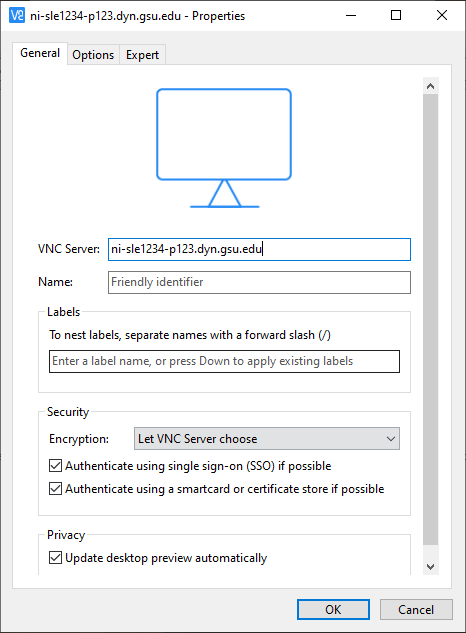 In VNC Viewer you should see your computer added. Double-click it to connect. When prompted for a login enter your GSU campus ID and password with a GSUAD\ prefix. For example: GSUAD\rsleeth
Mac
Mac to Mac
Open Spotlight (magnifying glass in the top-right of your Mac's taskbar) and search for "screen sharing" hit Enter on your keyboard after it appears
Enter your computer's hostname or IP address; it's name. If you don't your computer's name see the computer name guide or ask Ryan Sleeth. The name should look like ni-sle1234-p123.dyn.gsu.edu or ni-sle1234-p123.dmd.gsuad.gsu.edu. Click Connect

When prompted for a login enter your GSU campus ID and password with a GSUAD\ prefix. For example: GSUAD\rsleeth
Mac to Windows
Download Microsoft Remote Desktop from the Apple App store

GSU-owned devices can download Microsoft Remote Desktop from the Managed Software Center application on their Macs

Launch Microsoft Remote Desktop and in the top area click the plus "+" icon and select Add PC
For PC name enter your computer's hostname or IP address; it's name. If you don't your computer's name see the computer name guide or ask Ryan Sleeth. The name should look like ni-sle1234-p123.dyn.gsu.edu or ni-sle1234-p123.dmd.gsuad.gsu.edu. Click Add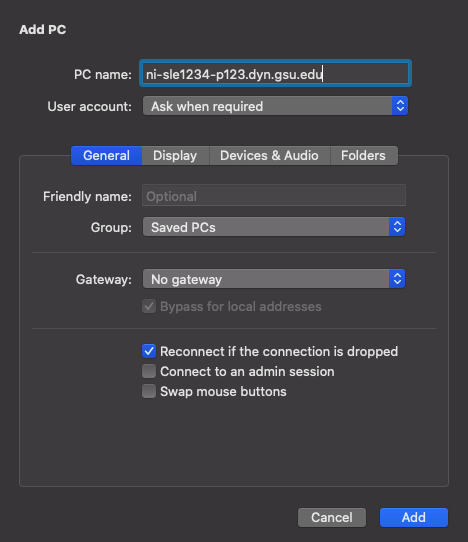 Back in Microsoft Remote Desktop double-click your computer to connect. When prompted for a login enter your GSU campus ID and password with a GSUAD\ prefix. For example: GSUAD\rsleeth