BOR USG policy allows for temporary escalation and then de-escalation of administrative rights–referred to as "temp admin". Only use this privilege when necessary for research such as updating niche scientific applications and equipment software.
Windows
Temp admin is facilitated through Make Me Admin which handles both escalation and de-escalation.
Search Start Menu for "Make Me Admin" and click to run the application
Click the button Grant Me Administrative Rights
You will have temp admin for 10 minutes
You may need to sign out and then back in for all applications to recognize temp admin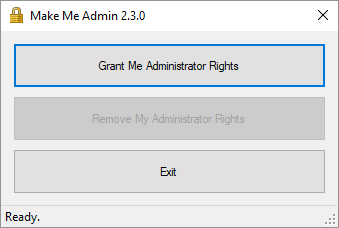 Mac
Temp admin is facilitated through SAP Privileges which handles esclation and then a custom Launch Agent which handles de-escalation.
Click the green lock icon on the left of your Dock near Finder
A window appears, click the button for Request privileges
You will have temp admin for 10 minutes
You may need to sign out and back in for all applications to recognize temp admin